End of March / beginning of April I finally managed to do a trip to Vietnam and Cambodia. The main objective was to see the amazing ruins of Angkor around the Cambodian city of Siem Reap. Vietnam was the additional cream on top of the waffles. Combining both in a two week trip was a very good idea. Both countries have a fascinating – but also brutal – past and hopefully a much brighter future with less conflicts.
I took about 2'900 pictures during this trip. The journey led from the North of Vietnam to the South. Then it ended with a few days over in Siem Reap in Cambodia.
Travel and Accommodation
Have to admit that I was not confident about the infrastructure in Vietnam and Cambodia. Was fearing that it would be probably a bit complicated to get from A to B. Since I am not really a backpacker type, I decided again to choose an organized study trip. This is the second time I am doing this. The thought process behind that was very similar to the Egypt trip earlier this year. Usually I prefer traveling at my own pace and with my own priorities in regards to what and what not to visit.
The study trip was organized and managed by a company called Studious. We were a group of about 24 other tourists. Studiosus also flew in a tour guide from Germany. She had extensive knowledge about the local history, art and languages. Also she was very patient in herding cats (this is important when you have a larger group with diverse interests and expectations). She was supported by local drivers and tour guides. They managed all logistics and organized the visits of temples, museums, palaces, etc.
The trip started with a long distance flight from Frankfurt (Germany) to the vietnamese capital of Hanoi. From there it was a short flight to Hue. Again followed by another national flight from Hue to Ho Chi Minh City (Saigon). Then the journey went to Siem Reap in the neighboring Cambodia. After staying there a few days, I had to fly back to Ho Chi Minh City to then board a plane directly to Frankfurt.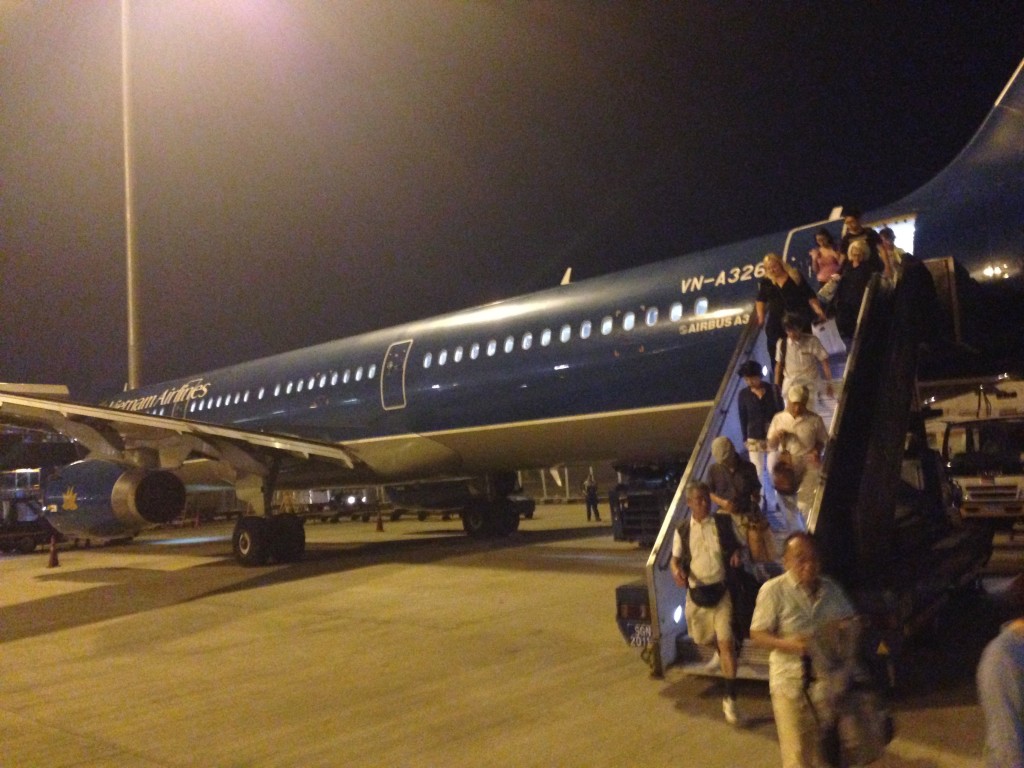 Studiosus usually booked quite good and modern city hotels (officially rated as four star). I would not say that any of them was really brilliant. But on the other side also none of them was really bad. The whole schedule of the trip was very tight. So there was anyway not much time to spend in the hotels.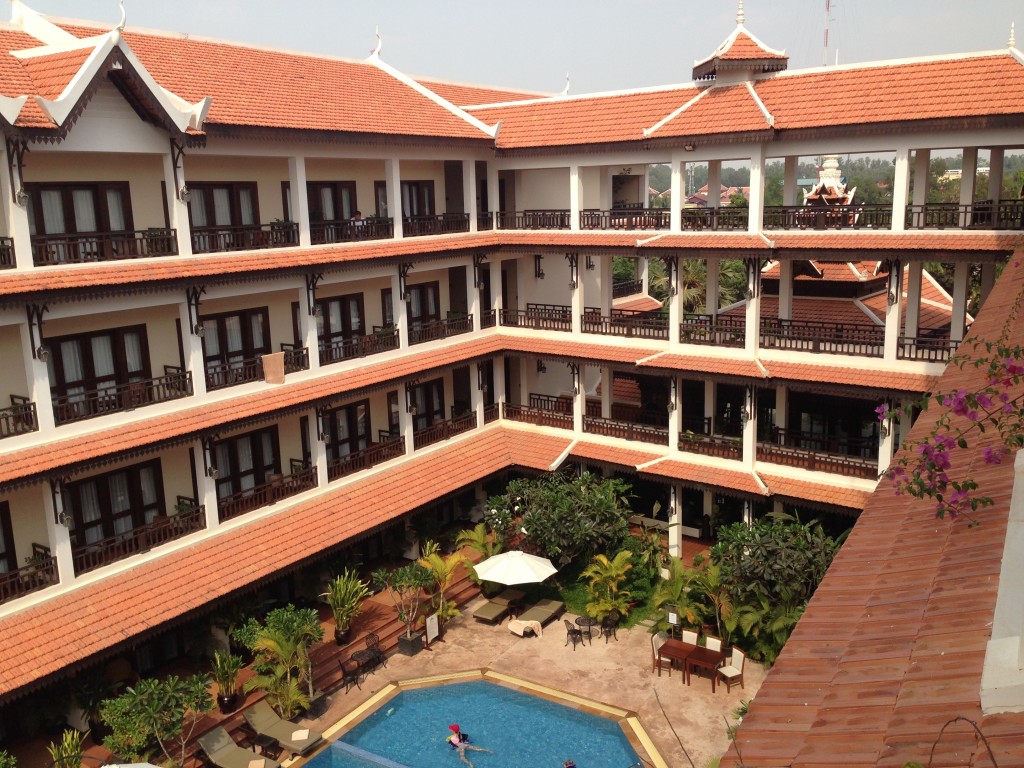 Overall I was positively surprised that it is possible to do such trip with a big group of diverse people. I was deeply skeptical that it probably would be too slow, boring and superficial. In some places I probably would have liked to spend more time. Other places I would have probably skipped. In general the trip was really fine and intense. Actually I was surprised how much was packed into these two weeks.
Route Taken
The 14 day trip started in the capital Hanoi in the north of Vietnam. Afterwards the general direction of travel was south. After two national flights and a bus trip we arrived in Ho Chi Minh City. From there the journey continued northwest to Siem Reap in Cambodia. After a few days there, the final leg of the trip was then a flight back to Ho Chi Minh City and then directly back to Frankfurt in Germany.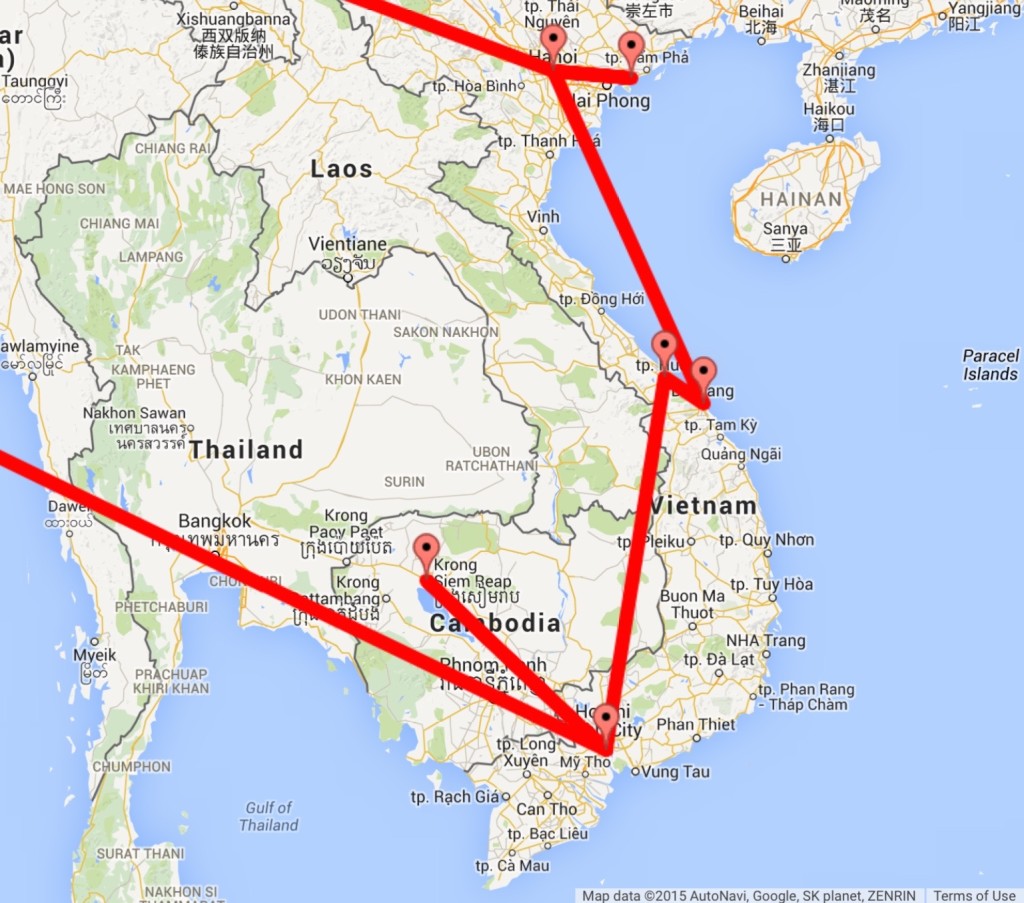 The following list shows all the main cities or sites visited during this trip. It is not really an exhaustive list and it mixes cities, regions, buildings, etc. All entries marked in bold where locations where I stayed over night. The links lead to my picture gallery where you can find snapshots taken at this respective location. Please note that I have not uploaded all pictures to the gallery.
Hanoi

Old Quarter
Hoàn Kiếm Lake
Temple of the Jade Mountain (Ngoc Son Temple)
Temple of Literature
…

Da Nang
Hải Vân Pass ("ocean cloud pass")
Hue

Tomb of emperor Minh Mạng
Thiên Mụ Pagoda
Forbidden City inside the citadel

Siem Reap
Personal Highlights
It is again hard to name a specific event or location that really the absolute highlight of the trip. Therefore I can only list a few things I will specifically remember.